Restaurant Linen Rentals and Management for Omaha Area Businesses
Spin Linen is a locally operated linen management company serving food and beverage businesses throughout the greater Omaha, Nebraska area.
Why Rent Linens from Spin Linen for Your Bar or Restaurant?
Since 1932, Spin Linen is dedicated to delivering high-quality, specialty food and beverage linen rental services to restaurants, bars, breweries, and more. Being a family-owned business, we want to be more than just a linen vendor. We love forming long-lasting partnerships with our customers and pride ourselves in the connections we form within the community. 
Tired of your servers asking for new aprons? Frustrated when your back-of-house yells they need rags and you're out of stock? When you have a business to take care of, linens should be the least of your worries. Our programs include inventory checks, so you'll never have to worry about notifying us of replacements or repairs. We'll save you time and money, which will let you put your focus back on your business!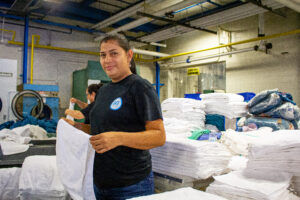 Complete Linen & Chef Ware Management for Your Restaurant
Spin is here to provide you with all your linen needs in the Omaha, NE area! We provide a variety of high-quality linens, towels, chef coats, and aprons. You'll be sure to find a color and style that will match your brand and decor. 
Tablecloths and Napkin Rentals
Tablecloths and napkins are the first impressions customers have when sitting down at their table. Who wants condensation from their drink making the table all wet? You want a linen provider that cares about the customer's dining experience as much as you do, and Spin is here to help you with that, so can get back to running your business. 
Bar & Cleaning Towel Programs
We provide cotton and polyester microfiber towels for your cleaning needs. These towels are perfect for cleaning and sanitizing tables, bar tops, kitchens, and more. The chemicals used in cleaning products are highly flammable but don't worry, we're the professionals! Leave it to us to guarantee a safe and easy cleaning experience.
Chefware: Chef Coats, Aprons & More
You want your chef and kitchen staff to look and feel professional. Chefware garments improve your company image, and the breathability of our garments will keep your staff comfortable while they work their culinary magic! 
Ready to Take Us for a Spin?
Call us today at 402-342-7181 or use the form below to learn more about how our linen programs and products for the food and beverage business can help keep your linen costs in check and enhance your company image.

1228 S. 16th Street
Omaha, NE 68108
402.342.7181 QUICK LINKS 
NEWS
CAREERS
Connect With Us
HLAC Certified