Linen Delivery & Cleaning Service For Restaurants
You have a reputation to uphold. That's why Spin Linen is more than just a linen vendor for the food and beverage industry. With the flexibility to order unique, artisan products that help you cultivate your brand, we are your local partner in image management.
Spin Linen has been trusted locally since 1932 due to our Inventory Integrity Promise. Customers all over Nebraska and now Iowa count on us for crisp, clean table linens and chef wear for their restaurants.
Why Choose Spin Linen for Restaurant Linen Services?
Our Inventory Integrity Promise!
We will be there when you need us
We will never overstock
We have straight-forward pricing
Our linen management specialists (notice we did not say drivers?) have a dedication to our customers, ensuring that they get linens and other supplies delivered and picked up on time. In fact, most of our employees have been on the same service route for years, so you will always have a familiar face that you can trust and someone who knows your business needs well.
Linen Cleaning Facility & Detailed Processes
Our facility and our processes all meet strict industry standards, and beyond. From our linen handling process with soiled items coming in one end of our building, tunnel washing system, and handling of clean linens going out the other side of the building, all linens have several quality control touchpoints throughout the entire process. We continue to invest in the latest washing technology, detergents, and education for our employees who ensure we deliver whiter whites, sharper corners, and consistent high-quality linen products.
The measures that we put in place ensure that you will get the highest quality linen arriving at your restaurant. Your linens play a big role in your business, when it's not there when you need it, you have too much or it's not clean, that's a problem. At Spin Linen, your linen program is handled. We have the best interest at heart, and we speak your language.
Tablecloth & Napkin Rentals for Restaurants
Spin Linen offers a variety of tablecloth sizes and colors that you won't get anywhere else.
Square & Rectangular Tablecloth Sizes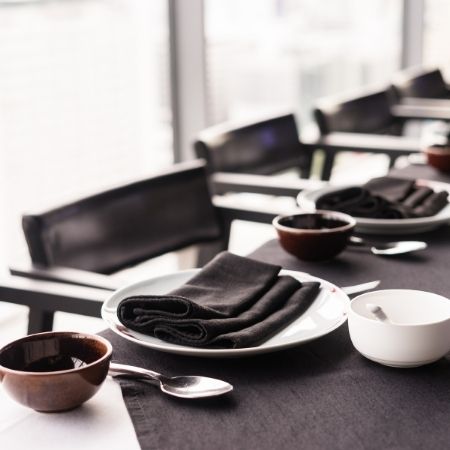 | | | |
| --- | --- | --- |
| 24 x 24 | 45 x 45 | 9 on all sides |
| 30 x 30 | 54 x 54 | 11 on all sides |
| 30 x 36 | 54 x 54 | 11 (2 sides) & 8 (2 sides) |
| 36 x 36 | 54 x 54 | 8 on all sides |
| 42 x 42 | 64 x 64 | 9 on all sides |
| 48 x 48 | 72 x 72 | 11 on all sides |
Booth Tables (or Tables Against a Wall)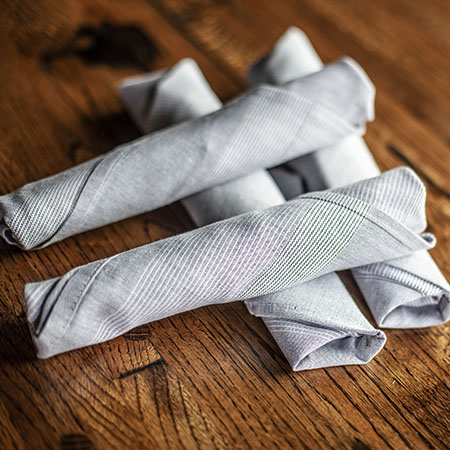 | | | |
| --- | --- | --- |
| 30 x 36 | 54 x 54 | 11 (2 sides), 13 (on the end) |
| 30 x 42 | 54 x 54 | 11 (2 sides), 10 (on the end) |
| 36 x 60 | 54 x 72 | 8 (2 sides), 9 (on the end) |
*Cloth size and inches of drop are approximate
Napkins can vary in sizes and colors, and when paired with an amazing tablecloth color they will make your restaurant make a great first impression on your guests.
Up Front Invoicing & On-Time Delivery
At Spin Linen, you will only be invoiced for what you use based on your linen management program. We monitor your usage, can deliver on a designated day or days if need be, and make sure your linens are on the shelf ready when you need them.
Kitchen Bar & Towel Rental Programs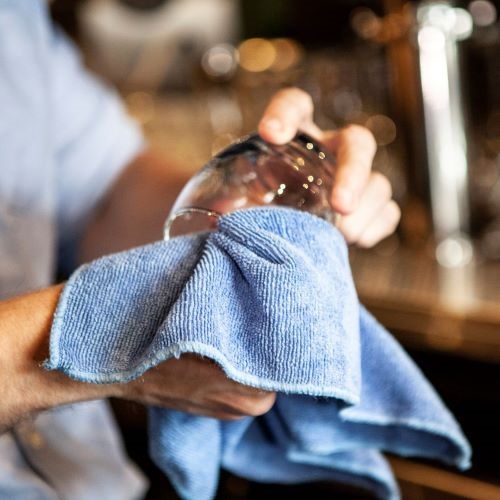 Microfiber Towels
Microfiber towels help you achieve cleaning superiority compared to the conventional towels most restaurants use. Microfiber towels are able to trap germs and bacteria, ensuring that your surfaces are sanitary for your guests. If your guests spill something, the fibers in these towels will be able to soak up liquids quickly, it will be like the spill never happened.
Kitchen & Bar Towels
Kitchen and bar towels are a necessity for every restaurant. Spills can happen at any point leaving extremely sticky bar tops, tables, and of course messy kitchen surfaces and prep areas. Our cotton bar towels are built to last, cleaned and sanitized every time, and ready when your staff needs them.
Fresh kitchen towels also contribute to a safe and clean cooking environment. When your kitchen is at its cleanest, your chefs will perform at their highest. Your chefs, kitchen staff, and even customers count on you to have fresh kitchen towels ready to go.
Chef Ware & Apron Rental Programs for Restaurants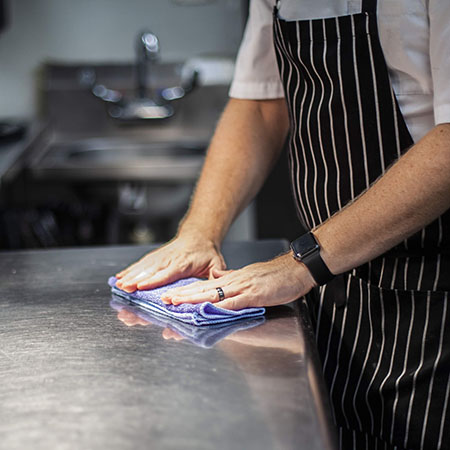 Chef coats and other chef wear serve so many purposes. Not only are they used to identify who the chefs are, they are used to make sure the food is not contaminated. Wearing street clothes while working in a restaurant environment is an open invitation for day to day germs and dirt. Many hospitality experts say that while the atmosphere and food bring customers back, it's the overall cleanliness of the restaurant that makes them return customers. Let us cater to your restaurant needs with chef wear and aprons that aim to please. 
Your linen can say a lot about your business. Along with tablecloths, napkins, towels and all the basics you need to get the job done, Spin specializes in new and innovative options that will enhance your customers' experience. Contact the Spin dine team to get started.
Memberships & Affiliations