Omaha is the home of the Henry Dooly Zoo and Aquarium, the birthplace of the Rueben, the Josleyn Gardens, and the best linen supplier in Nebraska!
Spin Linen is a leading provider of linen management services to the hospitality and healthcare sectors in Omaha, Nebraska. We've been growing our company and maintaining our customer service standards and high-quality products for a fair price to invest in our customers. We provide linen programs for restaurants, hospitality, and healthcare establishments. We also take care of inventory management, pick up, cleaning, and sterilizing, and our deliveries are always on time.  
Spin is an active member in the community. We are proud to be members of the BBB, Omaha Chamber of Commerce, TRSA (Textile Rental Service Association), HLAC (Healthcare Laundry Accreditation Council), ORA (Omaha Restaurant Association), and Nebraska Restaurant Association.
Why Rent Linens from Spin Linen?
What sets Spin apart from the rest is our devotion to our community and customers. We're a local business, so you're getting local values. We won't treat you like another transaction, we want to build long-lasting relationships, and we do this by providing high-quality service and products all for a fair price. 
We handle all the dirty work of your business; handling the inventory to ensure you never have overstock but never run out of what you need, pick-up and on-time deliveries to ensure your time isn't wasted and giving your linen rentals the most satisfying clean to provide for your customers. 
When you invest in Spin Linen, you're investing in the community; creating new jobs, reducing environmental impacts, and helping your community grow into the place you want it to be! 

Satisfy Your Cravings with Our Food and Beverage Linens
Spin is here to provide you with all your linen needs in the Omaha, NE area! We provide a variety of high-quality linens, towels, chef coats, and aprons. You'll be sure to find a color and style that will match your brand and decor.
Set the Perfect Table with Our Tablecloths and Napkin Rentals
Tablecloths and napkins are the first impressions customers have when sitting down at their table. Who wants condensation from their drink making the table all wet? You want a linen provider that cares about the customer's dining experience as much as you do, and Spin is here to help you with that, so can get back to running your business. 
Clean and Sanitize with Ease with Spin's Bar & Cleaning Towel Programs
We provide cotton and polyester microfiber towels for your cleaning needs. These towels are perfect for cleaning and sanitizing tables, bar tops, kitchens, and more. The chemicals used in cleaning products are highly flammable but don't worry, we're the professionals! Leave it to us to guarantee a safe and easy cleaning experience.
A Cut Above the Rest: Chef Coats, Aprons & More From Spin
 You want your chef and kitchen staff to look and feel professional. Chefware garments improve your company image, and the breathability of our garments will keep your staff comfortable while they work their culinary magic!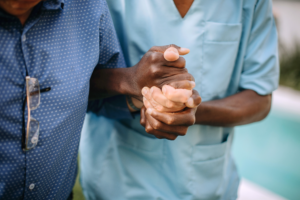 Experience Comfort with Our Hospitality Linens 
We provide bed sheets, blankets, towels, patient gowns, and scrub rental programs for your healthcare business in the Omaha area. 
Quality and Safety Guaranteed with our Bed Sheets & Linen Rental Programs
Spin is HLAC-Certified (Healthcare Laundry Accreditation Council), which means you can trust that the linens you rent from us for your medical office will be properly processed, sanitized, packaged, and delivered. We want to ensure that your patient's comfort needs and safety are met, and we do this by reducing the possibility of cross-contamination. 
Hygiene and Comfort First: Spin's Patient Gowns for Your Healthcare Facility
When it comes to high-quality comfort, our patient gowns will have you covered! Our product line is unique with our bright color selection, and we promise that they are always sanitized and hygienically clean. Spin Linen also monitors your usage to help keep costs down, too! 
Tailored To Your Needs: Towel Rental Options in Omaha
We offer surgical, cloth, and microfiber towels that follow HLAC standards. So whether they are needed on hand in the OR, for patient care, or for room cleaning, Spin has what you need.
Ready to Take Us for a Spin?
Call us today at 402-342-7181 or use the form below to learn more about how our programs can help keep your linen costs in check and enhance your company image.